OB Whats Popping This Weekend!
Hello fun lovers, its the weekend. and we are excited to bring to you the events happening from today to Wednesday. Check out our list of popping events for the weekend.
Abuja School Safety Conference 
The 2019 Abuja School Safety Conference is the largest and most comprehensive gathering of teachers, caregivers, school players and administrators with focus on school safety.
Date: Jan 8th – 12th, 2019
Time: 12:00
Venue:  Chida Events Centre, Utako District, Abuja.
The Alasi Foundation Skills Acquisition Program

This is a general Flutter meetup organized by Flutter Lagos in collaboration with GDG Lagos for those who are interested in building mobile apps using the Google's mobile SDK – Flutter.
Date: Sat, January 12, 2019
Time: 9:00 AM – 3:00 PM GMT
Venue:  Co-Creation Hub 294 Hebert Macaulay way, Yaba, Lagos.
Passion to Profit Workshop
This workshop is focused on providing attendees with practical knowledge in Discovering areas of passion etc.
Date: January 12, 2019
Time: 10:00 am
Venue: Bridgewater Academy, 4 Community Road Off Allen Avenue Ikeja, Lagos.
Brunch in Lagos
What better way to celebrate motherhood than engaging with moms from all walks of life over delicious food and drinks?
Date: Sat, January 12, 2019
Time: 10:30 AM – 1:30 PM WAT
Venue: House Cafe, 12 Victoria Arobieke Street, Lagos.
Investment Through Forex

Business Briefing, Mentoring, Scholarship
Date: Sat, January 12, 2019
Time: 11:00 AM – 2:00 PM WAT
Main Face of Segx Multimedia (MFOSM)
  The grand finale is the stage where the winner shall be awarded Main Face of Segx Multimedia.
Date: Sat, Jan 12, 2019. – Sat, Jan 12, 2019.
Time: 2:00 PM- 6:00 PM
Venue: Zion Event Center, 11, Eko Akete Close, off St Gregory Road, Obalende.
Tickets: N1,000- N5,000
Joor Concert 4
This year features, DJ Kaywise, Olamide, Davido, and Niniola as the Major headliners with over 15 other A list & raving acts of 2018.
Date: Sat, Jan 12, 2019 – Sat, Jan 12, 2019. 
Venue:  Abesan Stadium, Alimosho LG.
Exclusive Boat Cruise & Beach Hangout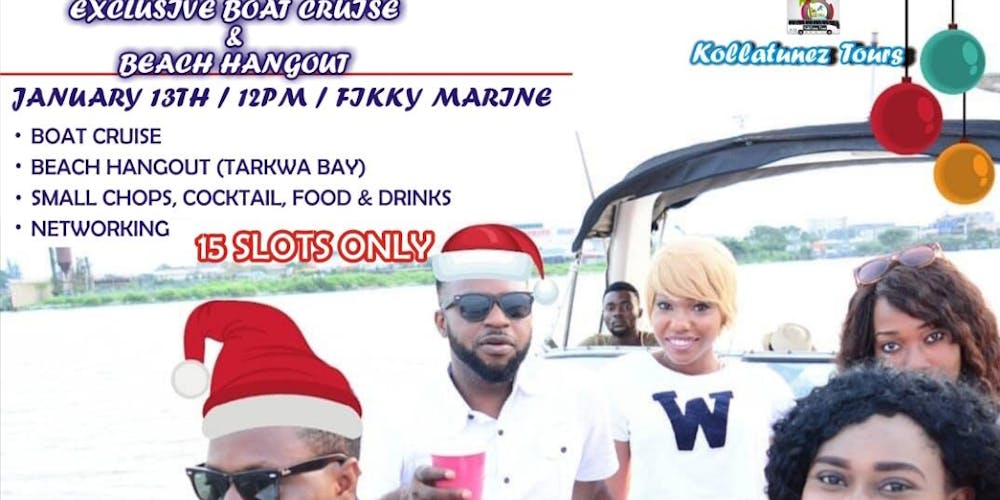 Date: Sun, Jan 13, 2019.
Time: 8:00 PM – 12:00 PM
Venue: Fikky Marina & Tarkwa Bay,
TEXA 2019
TEXA is designed to bring together seasoned and new event professionals across the African continent, taking participants on an exciting, informative, insightful and unusual experience.
Date: 15 – 17 January 2019.
Venue: Landmark Centre,Water Corporation Drive, V.I, Lagos
Please note that some of these events have free entries while others are strictly by invitation or may require you to purchase tickets so we strongly advice you make enquiries with the contact information provided here.
If you want your events to be featured in our weekly free-of-charge, Spy-"What's Popping This Weekend!" published on Thursdays, then kindly send an email with details about your event- this should include a soft copy invite or flyer. Send all details to our editorial department: editorials@onobello.com