Racially Divided North West Classroom Causes Outrage In South Africa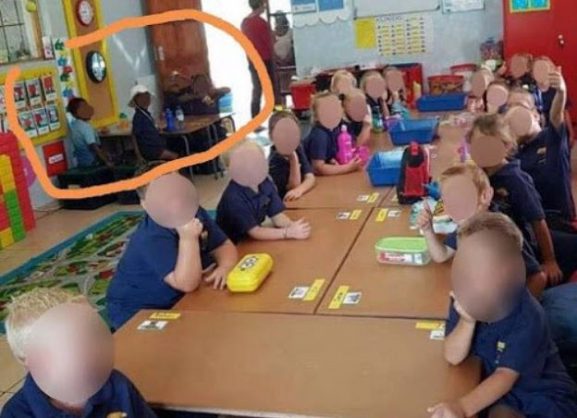 A photo appearing to show a table of happy white kids separated from their black classmates is going viral on social media
A picture showing a classroom divided along racial lines is currently doing the rounds.
Popular parody account @AdvBarryRoux is one of several Twitter users who have shared the pic.
According to the account, the school at which the pic was taken is Laerskool Schweizer-Reneke in the North West.
The photo appears to show a table of smiling white pupils and behind this, at the back of the class, a smaller table at which the class's few black pupils are sitting. Unlike their white counterparts, they do not appear to be smiling or reacting to the person taking the pic.
The receptionist of the school told The Citizen she is aware of the photograph, saying the school's principal had asked if all requests for comment could be sent via email.
We have emailed the school and will update this article with its response.
The North West Education Department, has told eTV's Open News that it is investigating the veracity of the picture.
For more on News, follow us on Instagram & Twitter @OnoBello | Facebook: OnoBello Magazine.
---
Leave your views in comments box below!